50 Fabulous Pinterest Ideas for Your Home Office
Is your home office in desperate need of a makeover or some innovative storage solutions? One of the best places to look for inspiration, DIY tutorials, and great products is Pinterest. The site offers up thousands of photographs of stylish home offices and home office projects, with something to suit every taste and style out there. Here, we share just a few of the great home office ideas being shared on Pinterest, with tips, tools, and images that touch on everything from small spaces to smart solutions.
Inspiration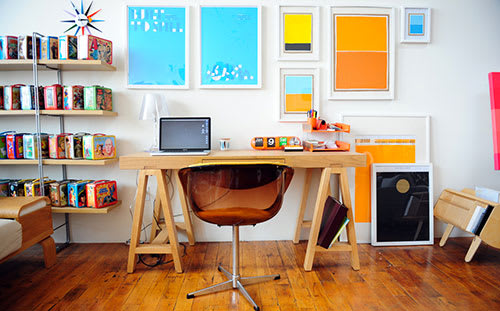 Use these pins to get inspired to create your own jaw-dropping office space.
Storage and Organization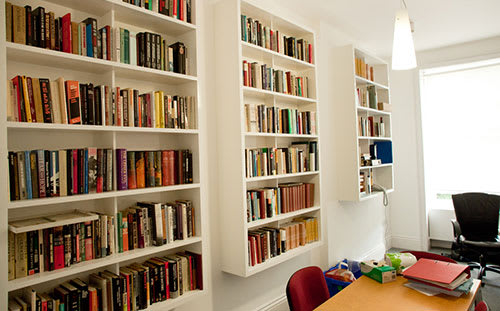 Getting your office organized is one of the toughest things to do, but these pins offer tips and ideas that will motivate you to create a clean and neat home office space.
Corner wall shelves. These corner wall shelves are perfect for using all the available wall space in a corner office.
Shutter storage. Need a place to put outgoing mail? Consider this cute storage idea.
Filing chest. This filing system is both functional and highly fashionable.
Awesome storage solutions. Look to this pin for some really great ideas for office storage, including buckets, wire bins, magnetic tins, and more.
Clipboard organizers. Keep all your notes, papers, and ideas organized by using this clipboard-based organizational system.
Organized office closet. Use this pin as the inspiration to get your own office closet in order.
Chalkboard paint on desk jars. A little chalkboard paint can help you to label and organize all of your office essentials.
Cord labels. Here you'll find a great use for those bread bag clips: labeling your cords!
Cord clips. Keep cords from falling behind your desk with this simple binder clip idea.
Tuna can organization. Wash out old tuna cans and use them to store pushpins, paperclips, rubber bands, and other office supplies.
Jelly jar storage. Reuse old jelly jars as office storage when you attach them to the underside of a shelf.
Cable storage. Keep your cords from getting tangled up in a box by using toilet paper tubes to store them.
Mail station. This inspirational mail station could be a great addition to any office in need of an in/out area.
Chevron cork board. This cork board isn't just a great place to store notes and photos. It is also great looking and super trendy with the chevron design.
File organizer. Repurpose a dish drainer as a file organizer in your office.
Peg board storage. While peg boards might be more common in garages and basements, they can be just as practical and great for storage in an office setting.
Small Space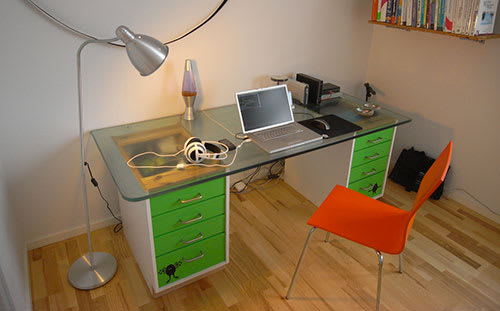 Whether you don't have a separate office in your home or need to make do with a smaller space, these Pinterest pins can help you create an inspired and functional work space.
Simple but chic. Need a small space solution for your place that's neat and organized but still stylish? Something like this photo could be really nice.
Small space solution. If you don't have room for a big desk, consider one like the desk featured here, with a pull out portion that adds a whole lot more space when you need it and rolls away when you don't.
Bookshelf desks. For those who need their desk to serve two people, this idea is small space gold, turning a bookshelf and a table into two functional desks.
Nook desk. This pin demonstrates how even just a small nook in your home can be turned into an amazing place to work.
Closet desk. If there isn't room for a proper office in your home, consider the idea offered in this pin, showing how a closet can become a seriously stylish office (complete with chandelier).
Warm your feet desk. Radiator in your way? This pin shows you how to build your desk right over it to save space. Save your podiatrist some work by taking care of your feet!
Small but organized office. This office is small on space, but big on style, with amazing organization inspiration.
Decorating Ideas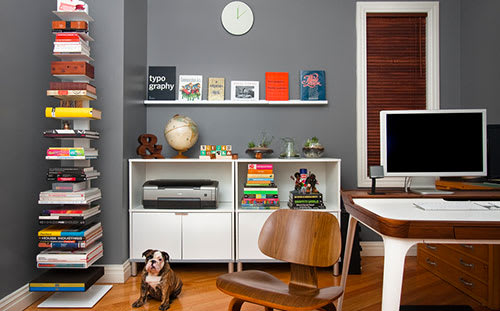 Make your office a space you don't mind spending time with these great decorating ideas.
Happy place. Behind the desk in this workspace is a HUGE photo of a beautiful garden. It could be a great thing to copy for your own space, giving you inspiration to get more work done so you can enjoy your happy places.
Color boost. While the furniture is simple in white and gray, the accents in this room are incredibly colorful, giving it a fun feeling and making it feel less like a work space.
Accent wall. In this photo, the desk and shelves are on a wall painted a bright salmon color. It's a great idea for adding vibrant color to your own work space.
Inspiration board. Give your office a little pizzazz by creating your own inspiration board like the one featured in this pin.
Chalkboard wall calendar. This calendar is not only very useful, it's also amazingly good looking, and will add chic style to your office.
Pump up the color of your desk. Why should the walls of your room have all the fun when it comes to color? Use this pin as inspiration to paint your desk a bright, fun color.
Use a comfy chair. You don't have to stick with the common office chair. Up the comfort level by using a wingback as your desk chair instead, as this pin demonstrates.
Bold corner desk. This corner desk is great for maximizing both work space and style in your office.
Easy DIY Projects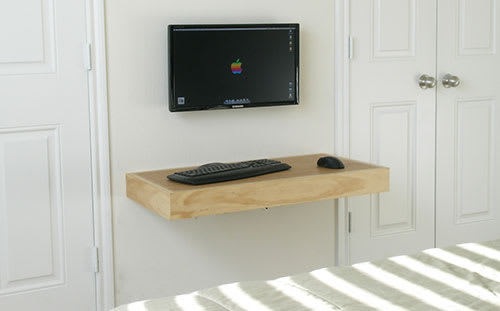 These projects can help you to revamp, repurpose, and ramp up every aspect of your home office.