50 Fun Twitter Feeds for Your Summer Reading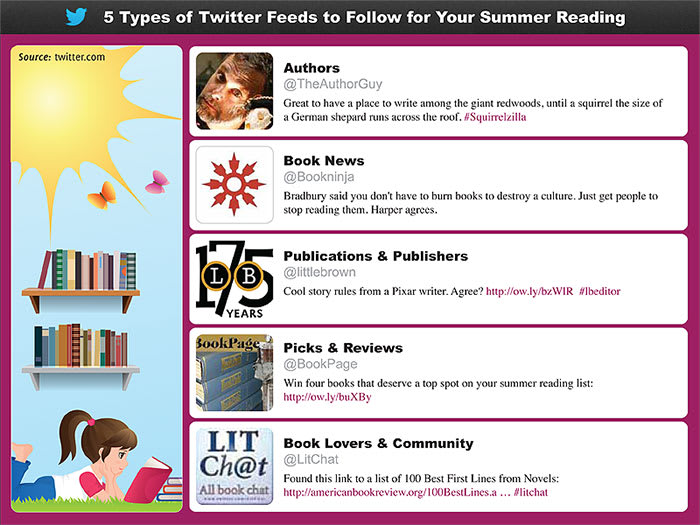 It's summer reading season; do you know what you'll be reading next?

Whether you're headed to the beach or curling up in a comfy chair, now is a great time to amp up your reading. With Twitter, it's easier than ever to find your next great read, whether you're learning about titles from the authors themselves or taking part in a reading community. Check out our list of 50 fun Twitter feeds for summer reading to discover books, take part in the reading community, and learn about the latest news in book publishing.

 
Authors
If you can't commit to a whole book, check out these author tweets for interesting summer reading.
Book News
Stay on top of new releases and book news through these Twitter accounts.
@CoverSpy:Want to know what New Yorkers are reading, right now? @CoverSpy hits the streets, subways, parks, and bars of NYC to tell followers what's hot in reading.
@thebookslut:Follow Jessa Crispin for book recommendations, fun reading resources, and book news.
@bookninja:"The world's deadliest books site" offers book news, insights, and musings into the summer book world and beyond.
@LiteratureBooks:Follow @LiteratureBooks to learn about new literature and fiction book releases as they are published.
Publications & Publishers
These books columns, publishers, and book bloggers offer plenty of insight into great summer reads.
Picks & Reviews
Need help finding a great book? These recommendation and review accounts are a great resource for readers.
Book Lovers & Community
Follow these book-loving communities to connect with other readers, find recommendations, and even join a book club.